About Our Agency
We believe in being the best partner that our clients can have in the communities that we serve. This means that we deliver the best products and services and are a good commercial citizen. We dedicate ourselves to covering every detail when we meet clients' needs and to being fully available. This ensures that our clients are secure and that they can reach us at any time.
We work closely with our communities to make sure that we know the people and areas that we serve and to help these communities grow. We invite you to get in touch with us to learn more and/or to get started on an insurance solution.
Please contact us or give us a call. If you're ready to start on a policy,request a quote.
Community Involvement
We sponsor a local golf tournament and the Harvest Festival. We participate in and support the Almond Festival as well, and we support other charitable events. We also support the Fuel Student Ministries, members of which have volunteered at our office. Our support of local organizations and events helps give people valuable work experience and makes the communities we serve better places to live and work.
Our Location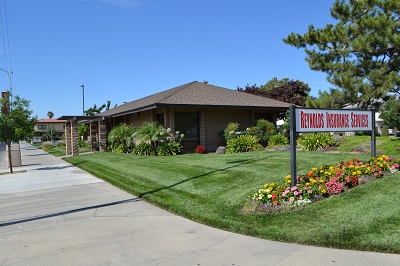 Reynolds Insurance Services
426 S. Madera Ave
Kerman, CA 93630
Main office:
559-664-3838
Fax:
559-846-7393
Testimonials
Accommodating, professional, helpful, and quick. Very comfortable experience and I was impressed by their capabilities. Highly recommended.
I feel lucky to have found an agent willing to provide this level of service. No need to look anywhere else!
Over the years we've never once had to worry about our coverage. My husband and I are long-time customers and proud to be.
Surprisingly flexible and in-touch with my needs as a small business owner. Can't ask for more.
They have strong ties with the community, and it shows. It's nice to do business with people that really show they care about you and your family.