REYNOLDS INSURANCE SERVICES
Specialized Home and Auto Insurance in Kerman, CA & Fresno, CA
We're an independently owned and operated agency that delivers diverse and adaptable insurance and risk management solutions in Kerman, CA and Central California. For 27 years we have served individuals, families, and businesses with comprehensive products that meet almost any insurance need. We provide personalized services such as risk and claims management and education. We are fully dedicated to keeping our clients informed and making the experience of finding, purchasing, and maximizing the value of insurance easy and beneficial.
We offer a wide variety of personal and commercial insurance programs, each of which is broad and can be custom-tailored to fit an individual clients' needs. We focus on specific types of insurance and as a result some of our programs represent areas of specialization. On the personal side, this includes home and auto.
Home and Auto Insurance
For homeowners and drivers in California, appropriate insurance is essential. It keeps individuals in compliance and protects a vast portion of their assets. Home insurance is a must for securing dwellings, belongings, and people. Auto insurance secures vehicles and protects against exposures that come with driving.
To save on your home and auto insurance, you can bundle these two types of insurance into a multi-line policy. Ask an agent and/or see our home & auto page to learn more about this combination.
Business and Farm Insurance
Another area of specialization is our commercial insurance, which has many different coverage and policy options. Business owners policies (BOPs) and commercial general liability (CGL) are among these options. Our business program is all-encompassing and gives business owners every opportunity they need to stay fully secure.
Farming is an industry that we know well, and we insure farmers regularly. We've been doing it years so we know what it takes to properly secure a farm for the right price. Our farm program is vast and protects against virtually any risk that a California farmer can experience. Crop insurance, which often goes hand-in-hand with farm insurance, is also something in which we specialize and is a program that we offer.
Related Links:
Our Location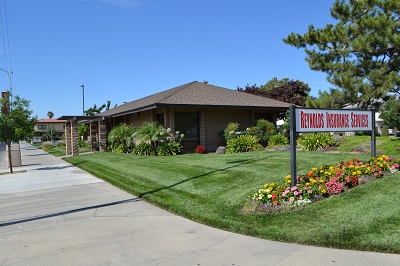 Reynolds Insurance Services
426 S. Madera Ave
Kerman, CA 93630
Phone Number:
Main office:
559-846-7389
Fax:
559-846-7393
Office Hours:
Mon:
8:00 AM - 5:00 PM
Tues:
8:00 AM - 5:00 PM
Wed:
8:00 AM - 5:00 PM
Thurs:
8:00 AM - 5:00 PM
Fri:
8:00 AM - 5:00 PM
Sat:
Closed
Sun:
Closed